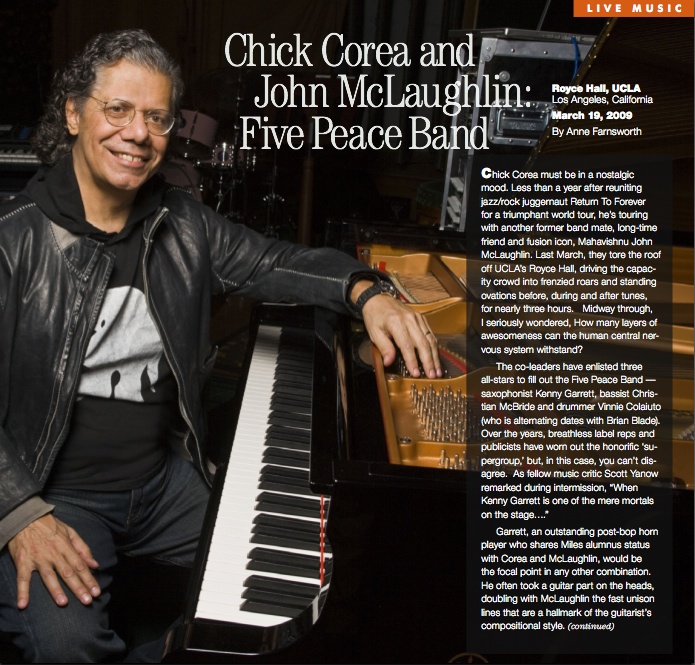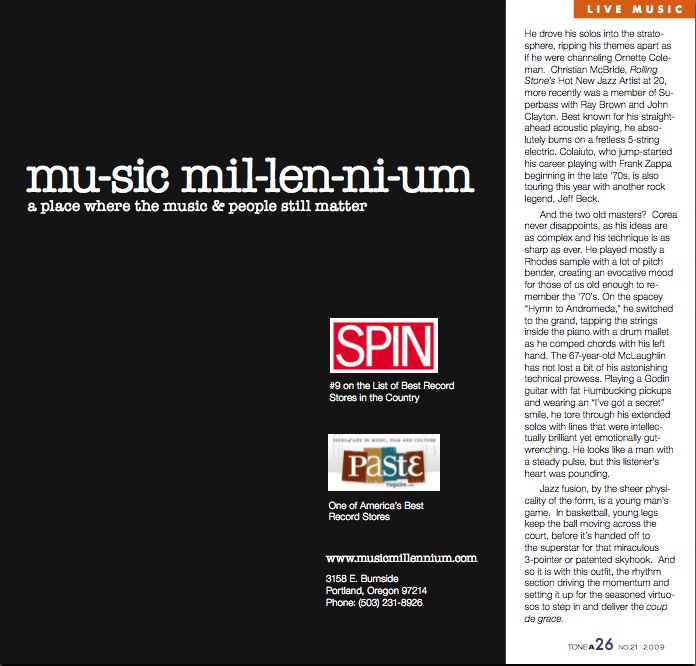 Do not reprint without permission
All rights reserved
Tone Audio 2009
Chick Corea must be in a nostalgic mood. Less than a year after reuniting jazz/rock juggernaut Return To Forever for a triumphal world tour, he's touring with another former band mate, long-time friend and fusion icon, Mahavishnu John McLaughlin. Last March, they tore the roof off UCLA's Royce Hall, driving the capacity crowd into frenzied roars and standing ovations before, during and after tunes, for nearly 3 hours. Midway through, I seriously wondered - how many layers of awesomeness can the human central nervous system withstand?
The co-leaders have enlisted 3 all-stars to fill out the Five "Peace" Band — saxophonist Kenny Garrett, bassist Christian McBride and drummer Vinny Colaiuto (who is alternating dates with Brian Blade). Breathless label reps have worn out the honorific 'supergroup' but, in this case, you can't disagree. As fellow music critic Scott Yanow remarked during intermission, "When Kenny Garrett is one of the mere mortals on the stage…."
Garrett, an outstanding post-bop horn player who shares Miles alumnus status with Corea and McLaughlin, would be the focal point in any other combination. He often took a guitar part on the heads, doubling with McLaughlin the fast unison lines that are a hallmark of the guitarist's compositional style. He drove his solos into the stratosphere, ripping his themes apart as if he was channeling Ornette. Christian McBride, Rolling Stone's Hot New Jazz Artist at 20, more recently was a member of Super Bass with Ray Brown and John Clayton. Best known for his straight ahead acoustic playing, he absolutely burns on a fretless 5-string electric. Colaiuto, who jumpstarted his career playing with Frank Zappa, is also touring this year with another rock legend, Jeff Beck.
And the two old masters? Corea never disappoints, as his ideas are as complex and his technique is as sharp as ever. He played mostly a Rhodes sample with a lot of pitch bender, creating an evocative mood for those of us old enough to remember the '70's. On the spacey "Hymn To Andromeda", he switched to the grand, tapping the strings inside the piano with a drum mallet as he comped chords with his left hand. 67-year-old McLaughlin has not lost a bit of his astonishing technical prowess. Playing a Godin guitar with fat Humbucking pickups and wearing an 'I've got a secret' smile, he tore through his extended solos with lines that were intellectually brilliant yet emotionally gut wrenching. He looks like a man with a steady pulse but this listener's heart was pounding.
Jazz fusion, by the sheer physicality of the form, is a young man's game. In basketball, young legs keep the ball moving across the court, handing it off to the superstar for that miraculous 3-pointer or patented skyhook. And so it is with this outfit, the rhythm section driving the momentum, setting it up for the seasoned virtuosos to step in and deliver the coup de grace.