ITALIAN ALTERNATIVES
If your idea of Italian music runs along the high/low borders of grand opera and singing gondoliers, with the Four Tenors and Domenico Modugno's "Volare" hovering somewhere in between, there are some great discoveries coming out of Italy's vibrant alternative, jazz and contemporary scenes.
It should come as no surprise that a culture that's been the leading light in classical vocal music since the Renaissance should be on the cutting edge today. That deep love of music will express itself no matter what the style. Setting these young artists apart from their peers in other countries is their loyalty to the traditional folk music and instrumentation of their local regions (local because culturally, I don't think Italians have quite yet bought into the whole unification thing), incorporating the sounds of these musical microclimates into modern and very personal interpretations.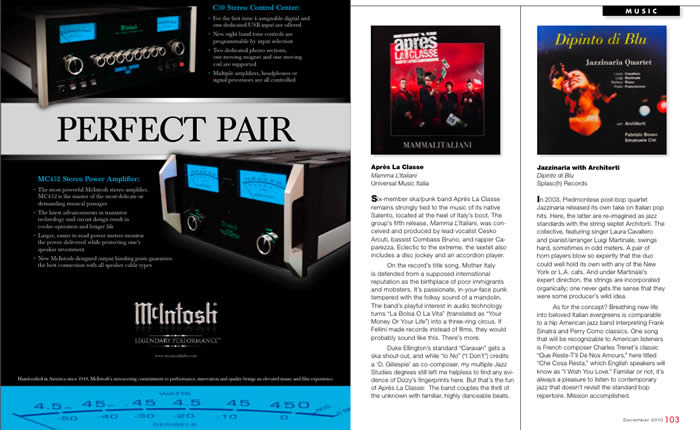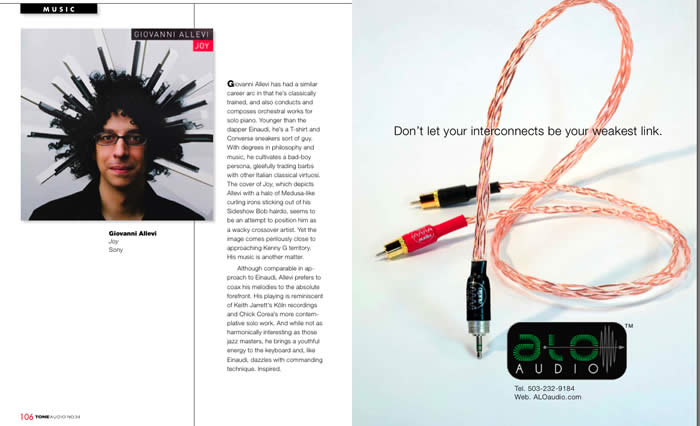 Ludovico Einaudi – La Scala: Concert 03 03 03 (BMG Ricordi)
Giovanni Allevi – Joy (Sony)
Ludovico Einaudi is a classically trained pianist who writes and records minimalist, atmospheric music that occupies that nebulous neighborhood between contemporary classical and New Age – Phillip Glass meets George Winston. You've probably heard his music already as it's been used extensively here and abroad in film and television soundtracks, including the NBA. He's a sort of superstar in certain circles, due to heavy rotation on classical FM stations and collaborations with world musicians and the rock groups Coldplay and Red Hot Chili Peppers. There are piano nerd forums on the web dedicated to the dissection of his themes and technique and tips on playing his compositions.
The Turin native trained at Milan's Verdi Conservatory and went to Tanglewood on a scholarship. Fun fact – his grandfather was President of Italy from 1948-1955, which leads one to wonder if he really needed that scholarship.
It seems a missed opportunity that this solo double CD recorded in Milan's storied La Scala wasn't released in SACD. But even in regular format, the hall's exceptional acoustics lift each weighty note of the concert grand piano and send it ringing over the hushed audience.
Using circular arpeggios, he weaves accompaniment around his themes, sometimes joining several of his well-known melodies into one piece. His impeccable technique shows in his subtle dynamics, building and then reducing volume almost imperceptibly.
Giovanni Allevi has had a similar career arc; classically trained, conducting and composing orchestral works as well as for solo piano. Younger than the dapper Einaudi, he's a tee shirt and Converse sneakers sort of guy. With a degree in philosophy as well as music, he cultivates a bad boy persona, gleefully trading barbs with other Italian classical virtuosi. Joy's cover shot of Allevi with a halo of Medusa-like curling irons sticking out of his Sideshow Bob hairdo seems to be an attempt to position him as a wacky crossover artist, yet comes perilously close to Kenny G territory.
Although comparable in style to Einaudi in approach, Allevi brings his melodies more to the forefront. His playing is reminiscent of Keith Jarrett's Köln recordings and Chick Corea's more contemplative solo work. Although not as harmonically interesting as those jazz masters, he brings a youthful energy to the keyboard and, like Einaudi, his commanding technique is magnificent.
ALL RIGHTS RESERVED © TONE AUDIO PUBLICATIONS
Do Not Reprint Without Permission
Roy Paci & Aretuska – Parola D'onore (Etnagigante)
Imagine a young Louis Prima leading a high-energy Afro-Caribbean/ska horn band and you'll get a sense of the music of Sicilian trumpeter, singer and composer Roy Paci.
After stints in Africa and South America playing Argentine big band, Brazilian cumbia and Afro-pop, tours with Zap Mama, Manu Chao and Italian urban/underground bands Negrita and Mau Mau, he's a poster boy for world music. Oh, and there was the 3-way collaboration with the klezmer artist and the Serbian gypsy orchestra and concept albums of mid-century Italian pop and southern Italian funeral marches.
Although a staple in European concert halls and the international festival circuit and popular enough to chart singles, Paci has yet to make his mark stateside. Last year he played his first gig here, in a sparsely attended Brooklyn high school auditorium. His venues this year are more respectable yet still small enough to get American fans in on the ground floor.
It's been reported that in concert the ebullient Paci tops the energy level of his releases, remarkable since his recordings have enough juice to jumpstart a small car. Parola D'onore mixes reggae, rap, big band jazz and Italian folksong; all powered by tight Cubano-style horn and percussion sections. Paci sings in English and Spanish as well as Italian and features guest rappers and vocalists. "Fela Kuti Aye!", an homage to the Nigerian superstar, opens with a James Brown flavored funky guitar. "Malarazza", a Sicilian folk song, includes a rapper rhyming in the local dialect. If you have trouble finding Parola D'onore, check out Paci's newest release, Latinista.
Après La Classe – Mamma L'Italiani (Universal Music Italia)
Another group from southern Italy is Après La Classe, a six-member ska/punk band with strong ties to the music of their native Salento, the heel of Italy's boot. Their fifth release, Mamma L'Italiani was conceived and produced by lead vocalist Cesko Arcuti, bassist Combass Bruno and rapper Caparezza. Eclectic to the extreme, the band also includes a disk jockey and an accordion player.
In the title song, "Mother Italy" is defended from a supposed international reputation as the birthplace of poor immigrants and mobsters. It's passionate, in-your-face punk tempered with the folksy sound of a mandolin. The band's playful interest in audio technology turns "La Bolsa O La Vita" (Your Money Or Your Life) into a 3-ring circus. If Fellini made records instead of films, they would probably sound like this.
Duke Ellington's standard, "Caravan", gets a ska shout-out and though "Io No" (I Don't) credits a 'D. Gillespie' as co-composer, even a couple of degrees in Jazz Studies left me helpless to find Dizzy's fingerprint. But that's the fun of Après La Classe – the thrill of the unknown coupled with familiar and highly danceable beats.
Jazzinaria with Architorti – Dipinto di Blu (Splasc(h) Records)
Speaking of Volare, in 2003 the Piedmontese post-bop quartet Jazzinaria released their own collection of Italian pop hits ("Nel Blu Dipinto di Blu" is Volare's actual title). Here, they're re-imagined as jazz standards with Architorti, a string septet. The group, featuring singer Laura Cavallero and pianist and arranger Luigi Martinale, swings hard, sometimes in odd meters. Also included are two horn players who blow so expertly they could hold their own with any of the New York or L.A. cats. Under Martinale's expert direction, the strings are incorporated organically; one never gets the sense that they were some producer's wild idea.
Breathing new life into beloved Italian evergreens is comparable to a hip American jazz group interpreting Frank Sinatra and Perry Como classics. One song that will be recognizable to American listeners is French composer Charles Trenet's classic, "Que Reste-T'il De Nos Amours", here called "Che Cosa Resta", which we know as "I Wish You Love". But familiar or not, it's a pleasure to listen to contemporary jazz that doesn't revisit the standard Bop repertoire.
Elisa – Heart
(Sugar Music/Warner Music Italia)
Elisa Toffoli is a young singer/songwriter in the Alanis Morissette/Avril Lavigne mold. Born in the northern Italian port city of Monfalcone, she lived in the States for several years and writes mostly in English (out of 14 tracks, only two are in Italian), singing with a barely discernable yet charming accent.
She signed her first record contract at 17 and has been recording and performing voraciously since then, winning multiple awards for her work, including one from MTV Europe. Aside from her own projects, she's appeared several times with Andrea Bocelli and served as music director for an Italian production of Hair.
Heart is the 32-year-old's eleventh album, going triple platinum in Italy and landing her the cover of Italian Rolling Stone. It's bouncy pop, with rock guitar, synth and Hammond organ adding heft, and lyrics inspired by Rudyard Kipling and Jim Morrison. One of the best tracks is her cover of "Mad World". Inspired by a version of the Tears For Fears hit featured in the movie Donnie Darko, she slows the tempo, giving the lyrics a melancholy and sardonic edge.