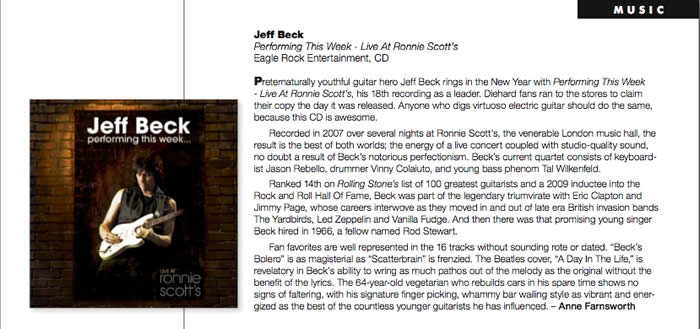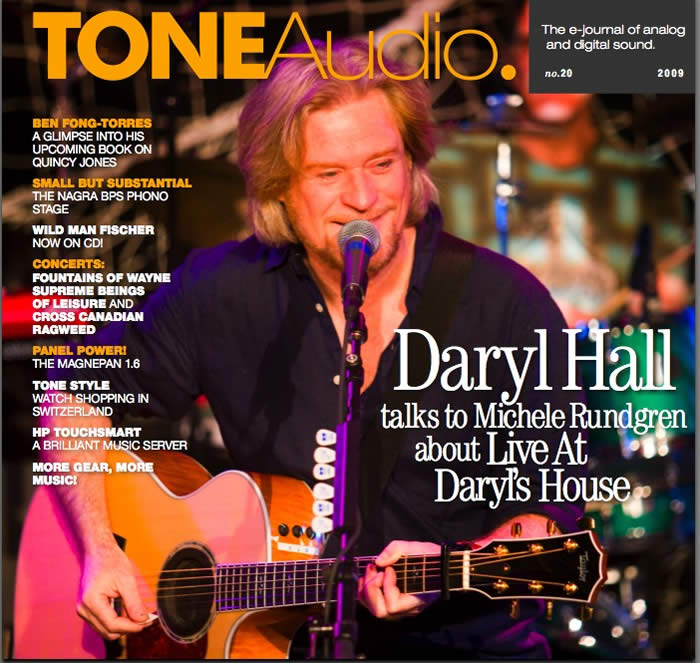 Do Not Reprint Without Permission
Copyright 2009 Tone Audio All Rights Reserved
Preternaturally youthful guitar hero Jeff Beck rings in the New Year with Performing This Week - Live At Ronnie Scott's, his 18th recording as a leader. Diehard fans ran to the stores to claim their copy the day it was released. Anyone who digs virtuoso electric guitar should do the same because this CD is awesome.
Recorded in 2007 over several nights at Ronnie Scott's, the venerable London music hall, the result is the best of both worlds; the energy of a live concert coupled with studio-quality sound, no doubt a result of Beck's notorious perfectionism. Beck's current quartet consists of keyboardist Jason Rebello, drummer Vinny Colaiuto and young bass phenom Tal Wilkenfeld.
Ranked 14th on Rolling Stone's 100 greatest guitarists and a 2009 inductee into the Rock And Roll Hall Of Fame, Beck was part of the legendary triumvirate with Eric Clapton and Jimmy Page whose careers interwove as they moved in and out of late era British invasion bands The Yardbirds, Led Zeppelin and Vanilla Fudge. And then there was that promising young singer Beck hired in 1966, a fellow named Rod Stewart.
Fan favorites are well represented in the 16 tracks without sounding rote or dated. "Beck's Bolero" is as magisterial as "Scatterbrain" is frenzied. The Beatles cover "A Day In The Life" is revelatory in Beck's ability to wring as much pathos out of the melody as the original without the benefit of the lyrics. The 64-year-old vegetarian who rebuilds cars in his spare time shows no signs of faltering, his signature finger picking, whammy bar wailing style as vibrant and energized as the best of the countless younger guitarists he has influenced.