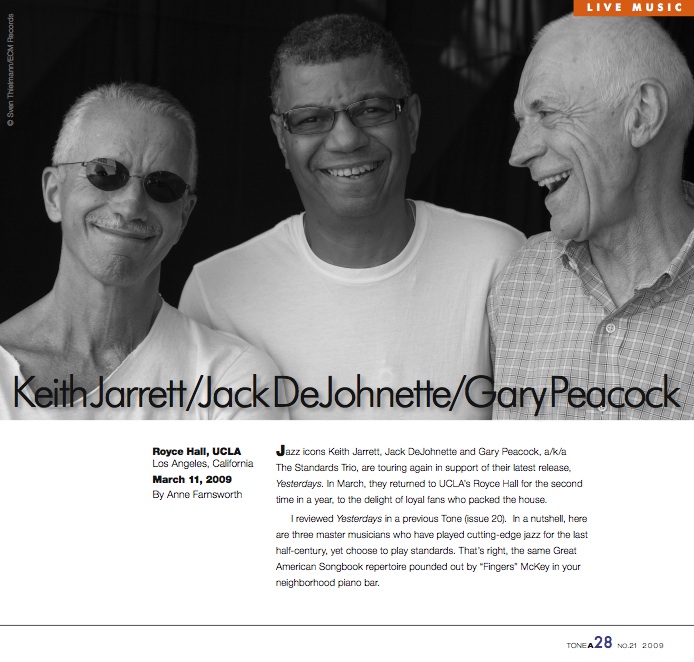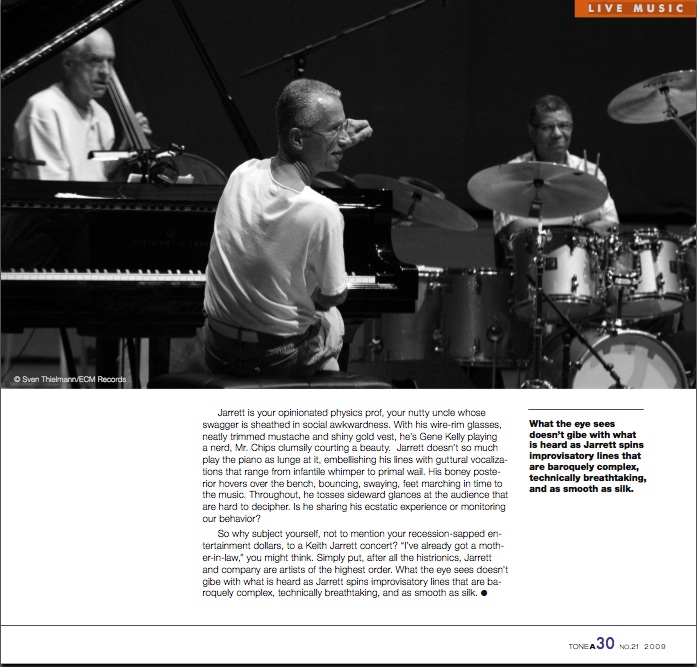 Do not reprint without permission
All rights reserved
Tone Audio 2009
Jazz icons Keith Jarrett, Gary Peacock and Jack DeJohnette, aka The Standards Trio, are touring again in support of their latest release, Yesterdays. In March, they returned to UCLA's Royce Hall for the second time in 12 months, to the delight of loyal fans who packed the house.
I reviewed Yesterdays in a previous Tone issue (no. 20). In a nutshell, here are three master musicians who have played cutting edge jazz for the last half-century yet choose to play standards. That's right, the same American Songbook repertoire pounded out by Fingers McKey in your neighborhood piano bar. Snarky derision dogged their debut 26 years ago as a handful of sniffing critics tried to wrap their minds around the concept. What they didn't understand was the delicious subversion of it all. Picasso applying his genius to a paint-by-numbers picked up at the local toy store. If an artist of Jarrett's stature decides to investigate a genre mistakenly considered mundane, the very fact of his interest adds value to the form.
The aforementioned fans are well aware of Jarrett's prickly public persona; by comparison, Glenn Gould is a mugging suck-up. His audience seems to enjoy his obvious disdain of live appearance for the performance art it possibly is. If you haven't seen him in person, here are some tips: Don't come if you have a nagging cough, although Jarrett has been known to thoughtfully dispense lozenges to disruptively catarrhal listeners. Don't even think of taking a photo. Jarrett will cut you. At the very least, he may threaten to bolt for the airport (the mayor of Perugia is still waiting for an apology). And, most importantly, pray that he likes the piano. Because if Jarrett's not happy, nobody is.
He walks onstage loaded for bear. At the Royce concert, after the obligatory and vaguely menacing no photos/no recording admonitions (immediately followed by an audient with a death wish snapping a cellphone pic), he introduces the first selection by describing its title as "a lie". The song? "Life Is Just A Bowl Of Cherries".
Jarrett is your opinionated physics prof, your nutty uncle whose swagger is sheathed in social awkwardness. With his wire-rim glasses, neatly trimmed mustache and shiny gold vest, he's Gene Kelly playing a nerd, Mr. Chips clumsily courting a beauty. Jarrett doesn't so much play the piano as lunge at it, embellishing his lines with guttural vocalizations that range from infantile whimper to primal wail. His boney posterior hovers over the bench, bouncing, swaying, feet marching in time to the music. Throughout, he tosses sideward glances at the audience that are hard to decipher. Is he sharing his ecstatic experience or monitoring our behavior?
So why subject yourself, not to mention your recession-sapped entertainment dollars, to a Keith Jarrett concert? 'I've already got a mother-in-law', you might think. Simply put, after all the histrionics, Jarrett and company are artists of the highest order. What the eye sees doesn't gibe with what is heard as Jarrett spins improvisatory lines that are baroquely complex, technically breathtaking and as smooth as silk.