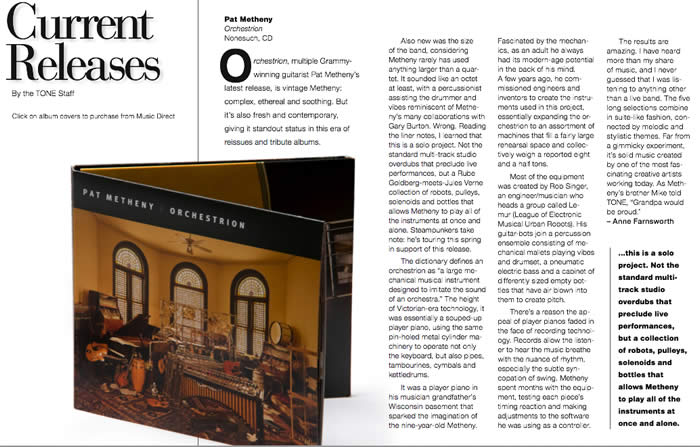 After picking up Orchestrion, multiple Grammy-winning guitarist Pat Metheny's latest release, I slipped the disc into my car's CD player for the ride home. The music is vintage Metheny – complex, ethereal and soothing. But it's also fresh and contemporary, giving it standout status in this era of reissues and tribute albums.
Also new was the size of the band, considering Metheny rarely uses anything larger than a quartet in his various formations. It sounded
like an octet at least, with a percussionist assisting the drummer and vibes reminiscent of his many collaborations with Gary Burton. Wrong. Reading the liner notes the next day, I learned this is a solo project. Not the standard multi-track studio overdubs that preclude live performance, but a Rube Goldberg-meets-Jules Verne collection of robots, pulleys, solenoids and bottles that allows Metheny to play all of instruments at once and alone. Steampunkers take note – he's touring this spring in support of this release.
The dictionary defines an orchestrion as 'a large mechanical musical instrument designed to imitate the sound of an orchestra'. The height of Victorian-era technology, it was essentially a souped-up player piano, using the same pin-holed metal cylinder machinery to operate not only the keyboard, but also pipes, tambourines, cymbals and kettledrums.
It was a player piano in his musician grandfather's Wisconsin basement that sparked the imagination of the 9-year-old Metheny. Fascinated by the mechanics, as an adult he always had its potential in our modern age in the back of his mind. A few years ago, he commissioned engineers and inventors to create the instruments used in this project, essentially expanding the orchestrion to an assortment of machines that fill a fairly large rehearsal space and collectively weigh a reported eight and a half tons.
Most of the equipment was created by Rob Singer, an engineer/musician who heads a group called Lemur (League of Electronic Musical Urban Robots). His guitar-bots join a percussion ensemble consisting of mechanical mallets playing vibes and drumset, a pneumatic electric bass and a cabinet of differently sized empty bottles that have air blown into them to create pitch.
There's a reason the appeal of player pianos faded in the face of recording technology. Records allow the listener to hear the music breathe with the nuance of rhythm, especially the subtle syncopation of swing. Metheny spent months with the equipment, testing each piece's timing reaction and making adjustments to the software he was using as a controller.
The results are amazing. This reviewer has heard more than her share of music and never guessed on the ride home that I was listening to anything other than a live band. The five long selections combine in suite-like fashion, connected by melodic and stylistic themes. Far from a gimmicky experiment, it's solid music created by one of the most fascinating creative artists working today. As Metheny's brother Mike told Tone, "Grandpa would be proud."