RABID ABOUT JAZZ
I had the pleasure of spending the Spring 2013 semester teaching jazz piano and voice on a Fulbright Scholar award in Riga, Latvia. I joined the Jazz Studies faculty at the Jazeps Vitols Latvian Academy of Music, the country's top conservatory.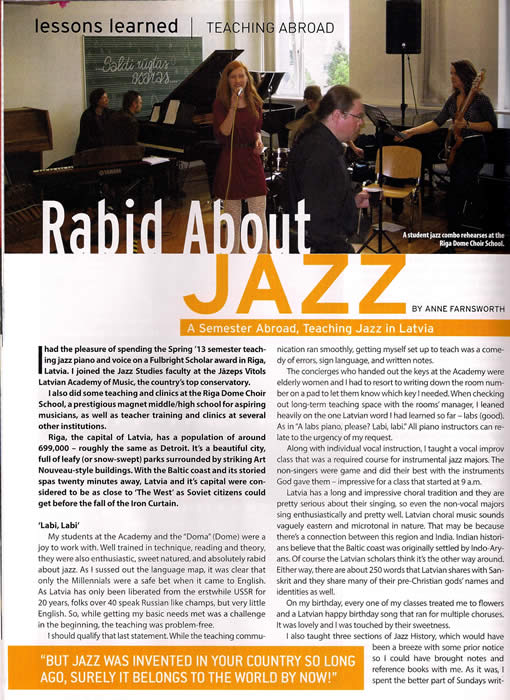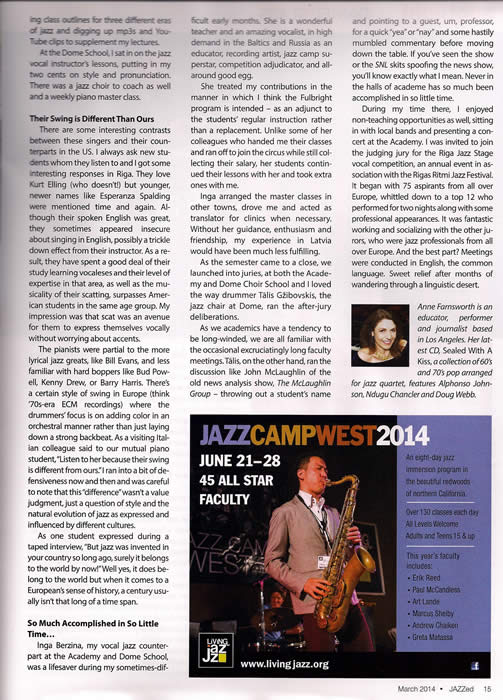 There are some interesting contrasts between these singers and their counterparts in the US. I always ask new students whom they listen to and I got some interesting responses in Riga. They love Kurt Elling (who doesn't!) but younger, newer names like Esperanza Spalding were mentioned time and again. Although their spoken English was great, they sometimes appeared insecure about singing in English, possibly a trickle down from their instructor. As a result, they have spent a good deal of their study learning vocaleses and their level of expertise in that area, as well as the musicality of their scatting, surpasses American students in the same age group. My impression was scat was an avenue for them to express themselves vocally without worrying about accents.
The pianists were partial to the more lyrical jazz greats, like Bill Evans, and less familiar with hard boppers like Bud Powell, Kenny Drew or Barry Harris. There's a certain style of swing in Europe (think 70's-era ECM recordings) where the drummers' focus is on adding color in an orchestral manner rather than just laying down a strong backbeat. As a visiting Italian colleague said to our mutual piano student, "Listen to her because their swing is different from ours." I ran into a bit of defensiveness now and then and was careful to note that this 'difference' wasn't a value judgment, just a question of style and the natural evolution of jazz as expressed and influenced by different cultures.
As one student expressed during a taped interview, "but jazz was invented in your country so long ago, surely it belongs to the world by now." Well yes, it does belong to the world but when it comes to a European's sense of history, a century usually isn't that long of a time span.
Inga Berzina, my vocal jazz counterpart at the Academy and Doma School, was a lifesaver during my sometimes-difficult early months. She is a wonderful teacher and an amazing vocalist, in high demand in the Baltics and Russia as an educator, recording artist, jazz camp superstar, competition adjudicator and all-around good egg.
She treated my contributions in the manner in which I think the Fulbright program is intended – as an adjunct to the students' regular instruction rather than a replacement. Unlike some of her colleagues who handed me their classes and ran off to join the circus while still collecting their salary, her students continued their lessons with her and took extra ones with me.
Inga arranged the master classes in other towns, drove me and acted as translator for clinics when necessary. Without her guidance, enthusiasm and friendship, my experience in Latvia would have been much less fulfilling.
As the semester came to a close, we launched into juries, at both the Academy and Dome Choir School and I loved the way drummer T?lis G×ibovskis, the jazz chair at Dome, ran the after-jury deliberations.
As we academics have a tendency to be long-winded, we are all familiar with the occasional excruciatingly long faculty meetings. T?lis, on the other hand, ran the discussion like John McLaughlin of the old news analysis show, The McLaughlin Group - throwing out a student's name and pointing to a guest, um, professor, for a quick yea or nay and some hastily mumbled commentary before moving down the table. If you've seen the show or the SNL skits spoofing it, you'll know exactly what I mean. Never in the halls of academe has so much been accomplished in so little time.
Since the discussion was taking place in Latvian, I was only getting about 40 percent of the conversation. So when it abruptly ended I thought we were taking a break. How my heart soared when Inga said, "Nope, we're done!"
During my time there, I enjoyed non-teaching opportunities as well, sitting in with local bands and presenting a concert at the Academy. I was invited to join the judging jury for the Riga Jazz Stage vocal competition, an annual event in association with the Rigas Ritmi Jazz Festival. It began with 75 aspirants from all over Europe, whittled down to a top 12 who performed for 2 nights along with some professional appearances. It was fantastic working and socializing with the other jurors, jazz professionals from all over Europe. And the best part? Meetings were conducted in English, the common language. Sweet relief after months of wandering through a linguistic desert.
ALL RIGHTS RESERVED
Do Not Reprint Without Permission
I also did some teaching and clinics at the Riga Dome Choir School, a prestigious magnet middle/high school for aspiring musicians, as well as teacher training and clinics at several other institutions.
Riga, the capital of Latvia, has a population of around 699K, about the size of Detroit. It's a beautiful city, full of leafy (or snow-swept) parks surrounded by striking Art Nouveau-style buildings. With the Baltic coast and its storied spas twenty minutes away, Latvia and it's capital were considered to be as close to 'the west' as Soviet citizens could get before the fall of the iron curtain.
Farther north than Moscow and Copenhagen, the winters are brutal so, with that in mind, I arrived in January, figuring the weather could only improve from there. It did, eventually.
My students at the Academy and the "Doma" were a joy to work with. Well trained in technique, reading and theory, they were also enthusiastic, sweet natured and absolutely rabid about jazz. And they spoke English, which, I quickly learned, was not the norm in this former Soviet country. As I sussed out the language map, it was clear that only the Millennials were a safe bet when it came to English. As Latvia has only been liberated from the erstwhile USSR for 20 years, folks over 40 speak Russian like champs, but very little English. So, while getting my basic needs met was a challenge in the beginning, the teaching was problem-free.
I should qualify that last statement. While the teaching communication ran smoothly, getting myself set up to teach was a comedy of errors, sign language and written notes.
The concierges who handed out the keys at the Academy are elderly women and I had to resort to writing down the room number on a pad to let them know which key I needed. When checking out long-term teaching space with the rooms manager, I leaned heavily on the one Latvian word I had learned so far – labs (good). As in "A labs piano, please? Labi, labi." All piano instructors can relate to the urgency of my request.
Along with individual vocal instruction, I taught a vocal improv class that was a required course for instrumental jazz majors. The non-singers were game and did their best with the instruments God gave them - impressive for a class that started at 9 AM.
Latvia has a long and impressive choral tradition and they are pretty serious about their singing, so even the non-vocal majors sing enthusiastically and pretty well. Latvian choral music sounds vaguely eastern and microtonal in nature. That may be because there's a connection between this region and India. Indian historians believe that the Baltic coast was originally settled by Indo-Aryans. Of course the Latvian scholars think it's the other way around. Either way, there are about 250 words Latvian shares with Sanskrit and they share many of their pre-Christian gods' names and identities as well.
On my birthday, every one of my classes treated me to flowers and a Latvian happy birthday song that ran for multiple choruses. It was lovely and I was touched by their sweetness.
I also taught three sections of Jazz History, which would have been a breeze with some prior notice so I could have brought notes and reference books with me. As it was, I spent the better part of Sundays writing class outlines for three different eras of jazz and digging up mp3s and YouTubes to supplement my lectures.
At the Dome School, I sat in on the jazz vocal instructor's lessons, putting in my two cents on style and pronunciation. There was a jazz choir to coach as well and a weekly piano master class.