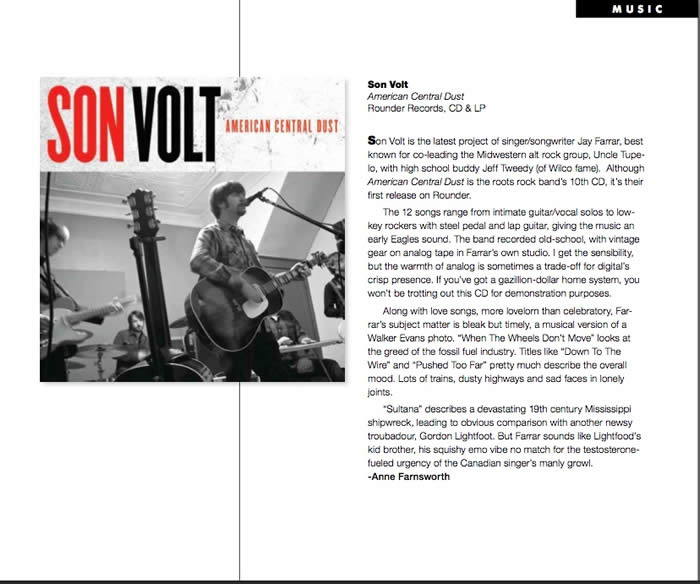 All Rights Reserved
Do Not Reprint Without Permission
Son Volt – American Central Dust (Rounder)
Son Volt is the latest project of singer/songwriter Jay Farrar; best known for co-leading the Midwestern alt rock group, Uncle Tupelo, with high school buddy Jeff Tweedy (of Wilco fame). Although American Central Dust is the roots rock band's 10th CD, it's their first release on Rounder.
The 12 songs range from intimate guitar/vocal solos to low-key rockers with steel pedal and lap guitar, giving the music an early Eagles sound. The band recorded old-school, with vintage gear on analog tape in Farrar's own studio. I get the sensibility, but the warmth of analog is sometimes a trade-off for digital's crisp presence. If you're the guy with the gazillion-dollar home system, you won't be trotting out this CD for demonstration purposes.
Along with love songs, more lovelorn than celebratory, Farrar's subject matter is bleak but timely, a musical version of a Walker Evans photo. "When The Wheels Don't Move" looks at the greed of the fossil fuel industry. Titles like "Down To The Wire" and "Pushed Too Far" pretty much describe the overall mood. Lots of trains, dusty highways and sad faces in lonely joints.
"Sultana" describes a devastating 19th Cent. Mississippi shipwreck, leading to obvious comparison with another newsy troubadour, Gordon Lightfoot. But Farrar sounds like the older singer's kid brother, his squishy emo vibe no match for the testosterone-fueled urgency of Lightfoot's manly growl.